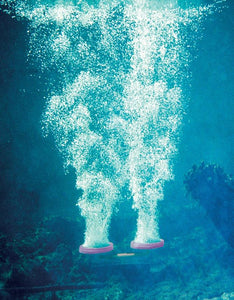 The Vertex Air 3 pond aerator is a super-efficient, affordable and safe system for circulating up to 9,800 GPM. In a typical lake with 8 foot depths, an Air 3 can aerate approximately 3-4 acres depending on dissolved oxygen demand and other factors.
A 1/2 hp piston compressor, housed in a rustproof outdoor cabinet, feeds three bottom mounted CoActive AirStations each utilizing Vertex MicronBubble technology. As bubble size decreases, oxygen transfer rates increase dramatically. The rising force of millions of bubbles circulates the entire water column, entraining bottom water up to the surface allowing vital oxygen to be absorbed.
Oxygen levels are increased and kept constant throughout the entire lake, preventing drastic O2 swings that can lead to fish-kills. With no electricity in the water, Vertex aeration systems are safe for any type of water recreation.
Our systems have an industry leading two-year warranty plus a five-year warranty against rust and corrosion on the cabinet, five-year warranty on the AirStations and a 15-year warranty on BottomLine supply tubing.
Vertex Air 3 comes with 3 CoActive AirStations.