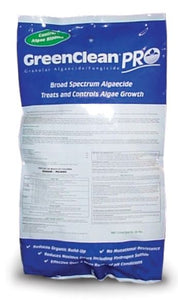 Organic Algaecide/Fungicide and Cyanobacteriocide controls algae and cyanobacteria (blue-green algae). Also proven effective on green algae and diatoms. 
This OMRI Certified Product is used in organic farming, and in ponds with sensitive fish.
Safe for people, pets, plants, fish and wildlife.
There are NO water use restrictions for humans or animals.
Apply by broadcasting or mechanical spreader. Product rapidly dissociates to sodium carbonate and hydrogen peroxide molecules within minutes.
Controls the cyanobacteria that can cause taste and odor in drinking water
Formulated in a low-moisture environment to prevent product from hardening

Alternative to copper chemicals

For use in waters containing fish, treating adds >13% bio-available oxygen to the water

Destroys algal cell membranes and chlorophyll, providing immediate control of algae

Granules provide targeted delivery to benthic cyanobacteria

Certified to NSF/ANSI Standard 60 for drinking water and OMRI listed for organic use