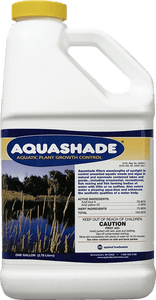 Aquashade Aquatic Plant Growth Control is a blend of blue and yellow dyes which shades specific portions of the sunlight spectrum (red-orange and blue-violet) required by underwater aquatic plant and algae growth.
Aquashade is primarily effective in water deeper than two feet, floating plants such as lilies are unaffected by this product if they have already reached the surface. Water treated with Aquashade will retain a light aqua-blue tint following application.
Aquashade is a non-organic EPA Registered Pond Dye. Only EPA Registered Pond Dye's In the USA have the ability to control plant growth.   
Allow at least one hour for Aquashade to disperse throughout the water body before using water for swimming, irrigation or livestock watering
AQUASHADE SUPRESSES GROWTH OF:
Leafy Pondweed
Chara
Slender Naiad
Watermilfoil
Hydrilla
Filamentous Green Algae
Filamentous Bluegreen Algae